JOIN NOW!
---
Home Page
---
PUBLICATIONS
Bulletin
Regional, Division and SIG publications
Data Sheets
Official Railway Equipment Register
Pounding the Rails
A Quick and Easy Guide to Promoting Model Railroad Month
Caboose Country!
---
EDUCATION DEPT
Achievement Program
AP Forms Page
NMRA Contests
Modeling w/the Masters
Special Interest Groups
Pike Registry
Pass Exchange
TECHNICAL DEPT
Standards & RPs
Conformance &
Inspection
---
Contact the NMRA
JOIN OR RENEW NOW!
Webmaster
Headquarters
Kalmbach Library

Section Updated
October 24, 2001
---

2002 CONVENTION
NATIONAL MODEL RAILROAD ASSOCIATION
PUBLICATIONS
---
Publications
The NMRA produces many publications for the benefit of its members and model railroaders everywhere. The major ones are listed here. For further information, contact headquarters with your area of interest, or:

Publications Department Chair
Dave Cichy
9509 Falcon Ridge Drive
Lenexa, KS 66220
H: +1 913 393 0910
Email: pubs@hq.nmra.org
---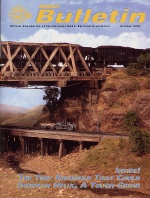 Bulletin
Official Publication of the National Model Railroad Association

The Bulletin is the official voice of the NMRA to its members.

---
Regional, Division and SIG publications
Although the Bulletin is the only centrally provided official publication of the NMRA, there are many Regional, Division and Special Interest Groups (SIGs) that provide media for members.
---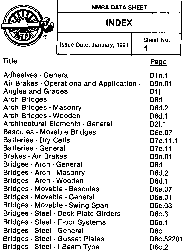 Data Sheets
The NMRA Headquarters produces the essential specifications for hundreds of model railroading topics. From information on adhesives to selective compression, you will find years of accumulated guidelines from experienced modelers.

The data sheets are now also available on a convenient CD ROM titled InfoPak which includes additional information as well.

---
The Official Railway Equipment Register (ORER) is a limited-run (3000 copies) reprint of the January 1953 issue and records the rolling stock used on North American railroads at that time. It includes car numbers and dimensions - inside and out - for rolling stock of all kinds. This specially authorized reprint includes a detailed introduction by noted freight car historian Anthony Thompson.
---
Pounding the Rails
The internal publication Pounding the Rails is provided to those members who volunteer to work on Public Relations and Recruitment. For more information contact:

NMRA Membership Program
Burt Reynolds
RR#8 1145 Farrow Ave.
Newcastle, ON L1B 1L9
H: +1 905 987 3376
Email: mbr@hq.nmra.org
---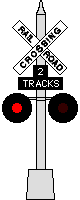 A guide to "help you plan, publicize and carry out activities promoting Model Railroading and the National Model Railroad Association during the month of November, which is Model Railroad Month".

---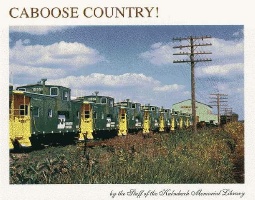 Caboose Country!
An excellent resource on caboose types, Caboose Country! is the first in a series of pictorial books by the staff of the Kalmbach Memorial Library.

---
Page last updated April 17, 2002